If you want to add a smilie on the wiki, follow these steps:
1. Make sure you have the pisture/smilie you want to upload saved somewhere on your computer. Like on your desktop or your pictures file.
2. Click on the button on the top right that says Contribute. Then click on add a page.

3. Whe you click that, you should see this:
Click on Blank page.
4. You MUST start the title with Template:_______ or it will not be a template page, or a smily page. Then in the _____ write what you want your smilie to be called. Then click add page.
5. Once you are on the edit page, go to the right of the screen. It should say Add features and media. Under that you should see the Photo icon. Click on it.
6. When you click on the icon, you should see this.
Or atleast something smiliar. Now go to the top and click on choose file.
7. This is the part where you choose the picture you want to use. Your file pages will pop up, and just choose the picture. Then, click upload.
8. Once you are done uploading the pic, you should see this page: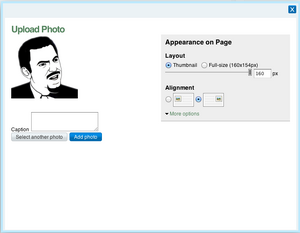 make sure you change the layout to full size, not thumbnail.
9. Once you add the photo, it should be good! But if it's too big, just change the file size by doing this:
that should change the size. But you NEED the px to change the size.
10. THat should be all, but make sure you preview the page before you publish. If something's wrong, go through the steps again to make sure you did everything. If you still don't know what happened, contact an Admin.
Ad blocker interference detected!
Wikia is a free-to-use site that makes money from advertising. We have a modified experience for viewers using ad blockers

Wikia is not accessible if you've made further modifications. Remove the custom ad blocker rule(s) and the page will load as expected.